In this class I'll be teaching you everything I know to help you to craft your own beautiful crepe paper Fuchsia. We go through two different varieties of Fuchsia and make two different items- a Fuchsia decoration and a full Fuchsia branch.
The decorations look stunning on a Christmas tree, or for decorating a party on a garland. The branches are incredibly realistic and will be a beautiful addition to a mantelpiece, or added to arrangements of other paper flowers all year round.
Through videos and PDF documents, each step will be demonstrated and all my tips and tricks passed on. You can pause and rewind the videos as much as you like. Videos are streamed so that you don't have to worry about downloading large files.
---
What's included in the class:

- Templates and instruction for 2 different varieties of Fuchsia
- Instruction and techniques on how to make a Bud and Foliage
- How to make your own Doublette crepe paper
- Lessons on how to make 2 different final items- Fuchsia decorations and a full branch.
- Full list of materials and suggestions for suppliers
- Techniques that can be transferred to the making of other paper flowers
---
No missed steps or instructions that leave you frustrated
---
Class begins by talking through the materials we'll be working with and suppliers will be listed, to make it easy for you to source anything you need. I'm also selling a kit of materials in my Etsy shop to assist people with gathering materials.
We then work on forming the centre of the flower, cutting and shaping the petals and putting together the stem and the decoration, through to the leaves, buds and branches should you wish to. You can work at your own pace with no class end time, no rushing, no pressure or feeling that you need to keep up.
This class has sections aimed at different skill levels, from the beginner/intermediate level of the Fuchsia decoration to the more advanced level of putting a full branch together. This is a great workshop for people looking to build their knowledge and confidence of paper flower making.
---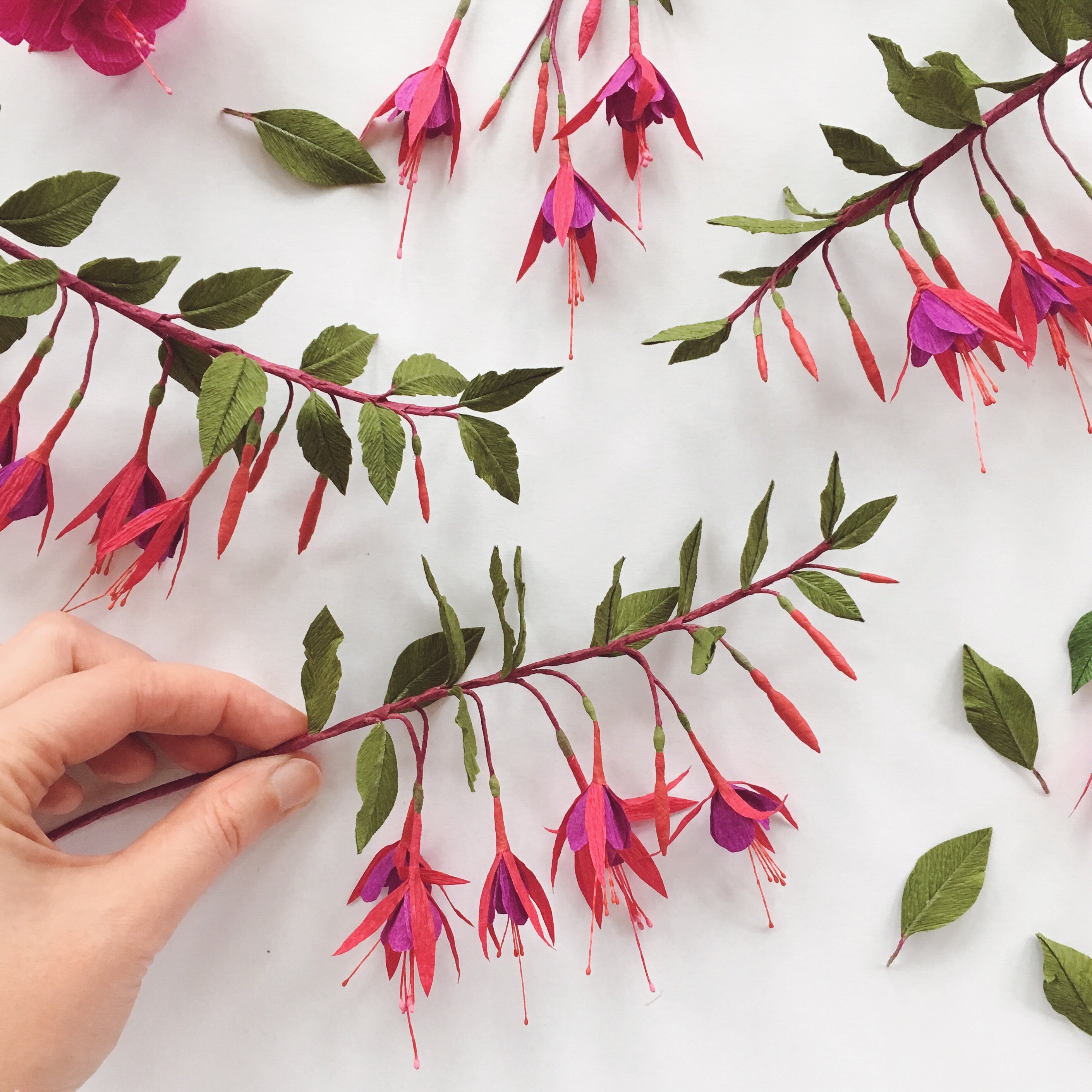 Fuchsia branches
---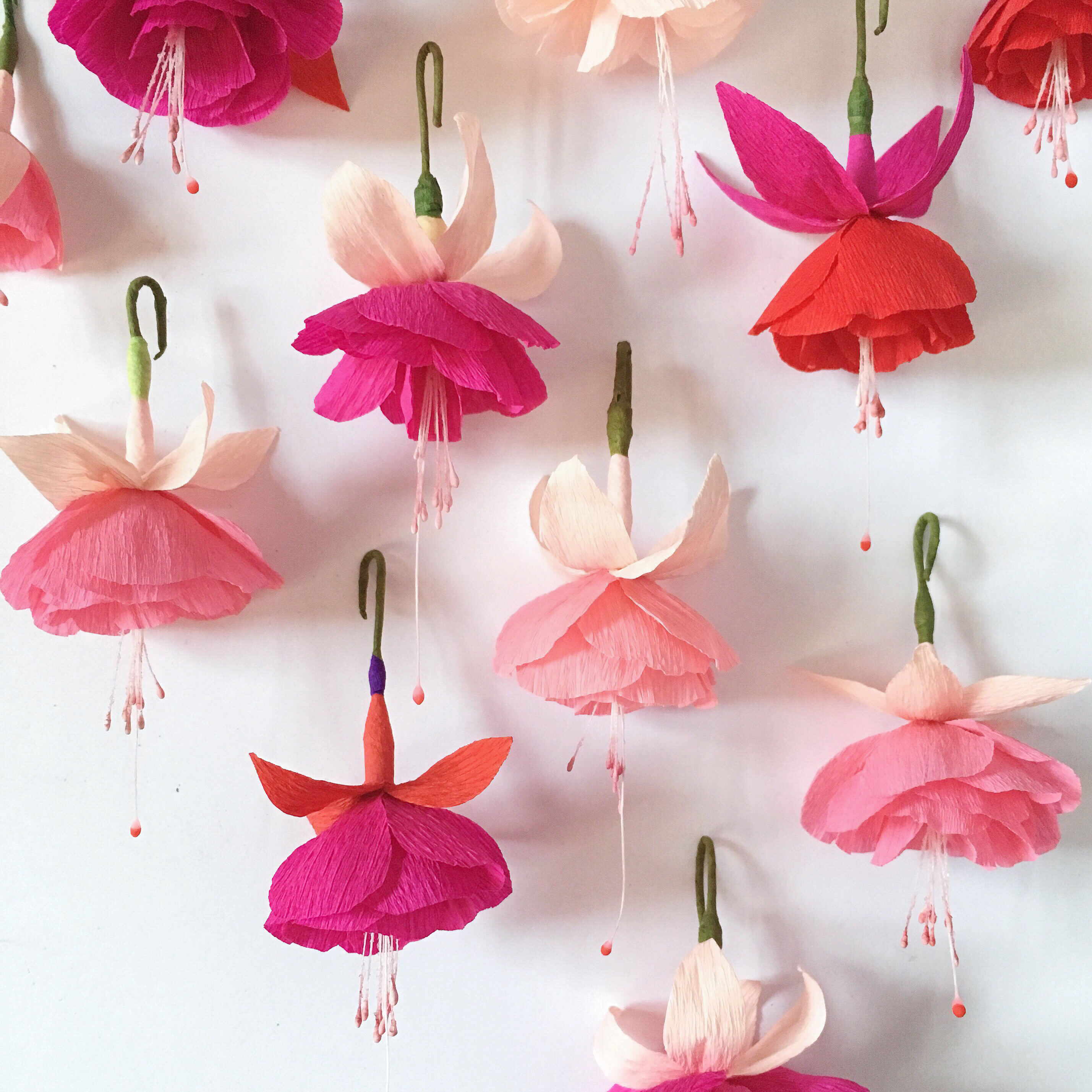 Fuchsia decorations
---
---
TESTIMONIALS
"I absolutely loved everything about the class! Excellent instruction. I feel like I can tackle it myself now and spread my wings"
Melony

---
"This was my first attempt at making crepe paper flowers. A Petal Unfolds made the step by step videos and Instructions so easy to follow. I would highly recommend this class for beginners. I've made flowers from other tutorials and books since, but this class was definitely the easiest to follow"
Nayana
---
"After spending years admiring Sue's work from across the pond, I was beyond excited about the release of her online class! I've been diving in to the materials and lessons and greatly appreciate how Sue breaks down each step of the Peony with concise yet thorough explanations. She's never so wordy that I don't understand the instructions and I've never felt like I was lacking any information. The visuals are beautiful and she works at a pace that is easy to follow along with. Even though I've been making flowers for a while, I still feel that I've learnt a lot. I'm also confident that beginners will be able to pick up the steps and learn this beautiful art form. I couldn't be happier with this class and can't wait to fill my home with countless Peonies"
Stacia
---
"I attended Sue's wonderful paper Peony workshop where I learnt something that I feel is so magical that I've been steadily making Peonies in wonderfully different colours since. Sue's warmth and patience along with her attention to detail helped to give me such a great gift"
Eileen
---
"Sue's flowers are stunning and very realistic. Her attention to detail is what makes them special and in her classes she shares her knowledge about tools and techniques for making realistic florals. She provides detailed instructions and demonstrations of each step so you too can make gorgeous flowers. I never would have thought that I could do this, but Sue makes everything easy to follow along with and you get great satisfaction from watching it all come together. I can't recommend Sue's classes enough."
Sandra
---